Ford Municipal Systems Ltd. provides maintenance, cleaning and landscaping services to institutional clients, municipalities, local authorities and manufacturers.
We provide these services with an innovative approach emphasizing the values that guide us: preserving the environment, promoting public health and ensuring safety.
The services offered are tailored to the needs of each client in observance of the highest standards and under the most stringent international regulations required by the company's licenses and approvals.
Ford Municipal Systems highly qualified and trained teams operate a state-of-the-art and technologically advanced vehicle fleet for the purpose of sweeping streets and collecting waste. They also attend to the removal of graffiti and the cleaning of buildings, walls, fences, roads and sidewalks using steam and sandblasting machines.
In addition, the company provides landscaping, cleaning and maintenance for festivals and fairs on top of other services for special projects.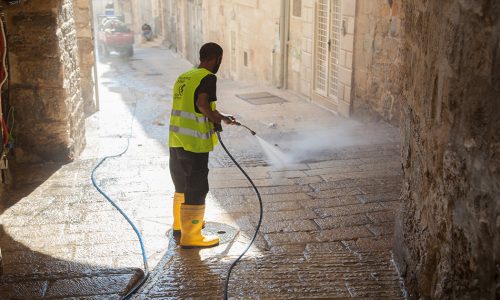 Institutions - cleaning and maintenance services
Public institutions are required to meet extremely high standards of maintenance and cleanliness. Ford Municipal Systems specializes in providing institutions those high level services, taking into account their activities and their unique needs.
Factories - cleaning and maintenance services
Cleaning and maintenance services are an integral part of managing factories, warehouses and commercial work spaces.
Maintaining cleanliness and proper order of the site and the equipment is of great importance in terms of safety and the lifespan of the structure.
Municipalities - cleaning and maintenance services
Ford Municipal Systems Ltd. provides street cleaning and maintenance services throughout the country, including the cities of Bnei Brak, Raanana and the Old City of Jerusalem.